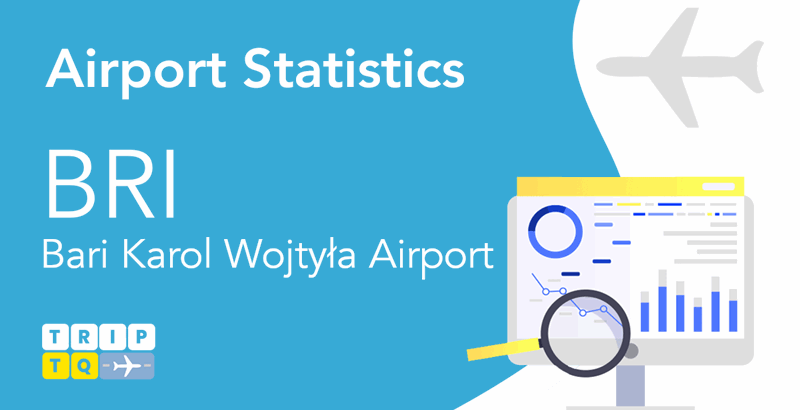 Bari Airport Welcomes Over 2 Million Passengers YoY - Up 1% in Q3 2023
Despite the challenges posed by the recent pandemic, Bari Airport has emerged as a beacon of resilience, welcoming over 2 million passengers in Q3 2023. This remarkable achievement represents a 0.31% increase from the same quarter in 2022, solidifying its position in Italy's Puglia region. With a renewed focus on providing exceptional passenger experiences, it will be interesting to observe how this trend continues in the coming years.
Sustained Passenger Growth at Bari Airport - Q3 2023
Bari Airport in Italy has been making continuous efforts to increase passenger volume growth. The significant improvement in Q3 2023 is a testament to these efforts. Compared to the same quarter of the previous year, there was a slight increase of 0.31% in passenger volume. This progress, albeit small, is positive and encouraging.
From Q3 2019 to Q3 2023, the airport has seen a general upward trend in passenger volume. In Q3 2019, the airport served 1,756,958 passengers. This number dipped to 647,824 passengers in Q3 2020 due to the global pandemic, marking a decrease of 63.13% from the previous year.
However, the airport bounced back in Q3 2021 with a remarkable 131.85% increase in passenger volume, serving 1,501,973 passengers. The upward trend continued in Q3 2022 with 2,090,783 passengers, a 39.20% increase from the previous year. In Q3 2023, the airport served 2,097,170 passengers.
Bari Airport Passenger Volume - Q3 2019 to Q3 2023
The Q3 2023 passenger traffic data for Bari Airport shows a promising recovery. When compared to Q3 2019, the pre-pandemic quarter, it is clear that the airport has fully recovered. In fact, the Q3 2023 increase surpassed the Q3 2019 pre-pandemic levels. This means the airport has successfully and fully recovered from the impact of the pandemic on passenger traffic.
However, the slight increase of 0.31% from Q3 2022 to Q3 2023 indicates that this quarter remains a challenge for the airport. Despite this, the overall trend from Q3 2019 to Q3 2023 is positive, demonstrating the airport's resilience and ability to adapt to changing circumstances. The airport will continue to strive for further growth in the coming quarters.
Passenger Traffic at Bari Airport – 2019 to 2022
In 2022, Bari Airport experienced a significant increase in passenger traffic, with a total of 6,205,453 passengers. This figure represents an impressive 88.14% increase from the previous year, when the airport served 3,298,253 passengers.
This surge in passenger numbers in 2022 is particularly noteworthy when compared to the figures from 2020 and 2021, years heavily impacted by the global pandemic. In 2020, the airport saw a drastic reduction in passenger traffic, serving only 1,712,506 passengers, a decrease of 69.28% from 2019. However, in 2021, the airport began to recover, with passenger numbers increasing by 92.60%.
The 2022 passenger traffic not only surpassed the pre-pandemic levels of 2019 (5,574,041 passengers) but also exceeded the highest recorded passenger traffic in the last five years. Specifically, the 2022 figure is 11.33% higher than the 2019 figure and 22.61% higher than the 2018 figure (5,060,201 passengers).
The significant increase in passenger traffic in 2022 could be attributed to a variety of factors, including the easing of travel restrictions and the resumption of many international flights. This upward trend in passenger traffic suggests a positive outlook for Bari Airport, indicating that it is well on its way to recovery and growth.
Flight Statistics at Bari Airport - September 2023
Strategically positioned in the heart of Europe, the airport boasted excellent connectivity to public transportation, making it an attractive choice for travelers seeking to explore the continent and beyond. Its proximity to major cities and its diverse range of airline connections further enhanced its appeal, positioning it as a key player in the European travel landscape.
In September 2023, the airport's top destinations reflected the diverse preferences of travelers seeking to explore Europe's rich tapestry of cultures and experiences.. Italy, with its alluring blend of ancient ruins, Renaissance masterpieces, and culinary delights, emerged as the most popular destination, attracting visitors from across the globe. Germany, renowned for its architectural marvels, vibrant cities, and captivating beer culture, followed closely behind, offering a unique blend of tradition and modernity.
France, the epitome of romance and sophistication, captivated travelers with its iconic landmarks, charming cafes, and world-class museums. Spain, a land of vibrant flamenco rhythms, sun-drenched beaches, and historical treasures, enticed visitors seeking a blend of cultural immersion and Mediterranean flair. The United Kingdom, a nation steeped in history, literary giants, and royal traditions, rounded out the top five, beckoning travelers with its captivating cities, iconic castles, and verdant countryside.
Among the top international destinations for September, Paris, the City of Lights, reigned supreme, captivating visitors with its Eiffel Tower, enchanting museums, and romantic ambiance. Tirana, Albania's vibrant capital, emerged as a rising star, offering a delightful mix of Ottoman-era architecture, contemporary art galleries, and bustling cafes.
London, the cosmopolitan hub of the United Kingdom, enticed travelers with its Buckingham Palace, renowned museums, and electrifying West End theater district. Munich, Germany's brewing capital, attracted visitors with its Oktoberfest festivities, traditional Bavarian cuisine, and world-class museums. Gudja, a charming Maltese town, offered a glimpse into the island's rich history, sun-drenched beaches, and captivating architecture.
Ryanair, a leading low-cost carrier, played a dominant role in the airport's operations, providing frequent and affordable flights to a wide range of destinations across Europe. ITA Airways, the successor to Alitalia, complemented Ryanair's network with connections to major Italian cities and beyond, catering to both business and leisure travelers.
Wizz Air, another major low-cost carrier, expanded the airport's reach to Eastern European destinations, while easyJet, a well-established European airline, offered connections to popular tourist hotspots, such as Paris and London. Hibernian Airlines, a regional airline based in Malta, provided direct flights to Gudja from the airport, catering to travelers seeking to explore the Mediterranean island's charming villages and historical sites.
Are you a travel publisher and would like this information for your site/blog/publication?
Contact us on this form to request Bari Airport Airport Statistics (Statistics, data and infographics are available for a wide range of airports worldwide - please tell us your requirements using the form)
UNBEATABLE VALUE CAR RENTAL

FREE
Amendments,
FREE
Cancellations,
NO
card fees!

airport_shuttle Need Airport Transfers?
Useful Information about Bari Karol Wojtyła Airport